The total market cap of USD Coin (USDC), the world's second-largest US dollar-pegged stablecoin by market capitalization which is issued by US fintech firm Circle, overtook XRP (XRP) in market cap on Thursday.
XRP is the cryptocurrency that powers the XRP Ledger, a decentralized layer-1 blockchain protocol launched by payments-focused US fintech firm Ripple more than 10 years ago.
USDC's market cap was last around $26.15 billion, making it the fifth largest crypto by market cap, while XRP's was around $25.95 billion making it the sixth.
USD Coin's dominance over XRP comes after XRP tumbled in price earlier this week amid broad downside in the crypto market amid jitters about potential digital asset sales from failed and bankrupt crypto exchange FTX.
While other sections of the market have now recovered (Bitcoin (BTC) is currently at monthly highs in the $26,600s), XRP is still struggling a little in the mid-$0.48s.
Indeed, XRP has been stuck in a downtrend since an abrupt spike to multi-year highs in the $0.90s after Ripple secured a partial victory over the SEC in their ongoing lawsuit regarding Ripple's alleged sales of $1.3 billion worth of XRP tokens, which the SEC views as unregistered securities.
This downtrend has seen USDC leapfrog XRP's market cap, even though USDC's market cap has also been in a downtrend since reaching a record high in June 2022 around $56 billion.
The decline in USDC's market cap accelerated in March after a mini US banking crisis triggered fears the stablecoin may be under-collaterized – USDC is backed 1:1 with actual US dollars or liquid equivalents, the former of which are stored in various US bank accounts.
Price Prediction – What Happens Next for XRP (XRP)?
While XRP has been able to recover about 6% from its earlier weekly lows in the $0.46 area, it remains stuck in the downtrend that has been in play since the July spike.
Confirmation that the downtrend has been snapped would likely require XRP to break back to the north of its 21 and 200DMAs, with the former having acted as a strong resistance zone going all the back to the beginning of August.
That could trigger some short-term reprieve for XRP and open the door back to a move towards resistance in the mid-$0.50s.
Ultimately, will continue to trade as a function of news relating to the ongoing Ripple/SEC lawsuit.
A district judge presiding over the case ruled that XRP was not necessarily a security back in July, though the SEC has filed a motion for an appeal to challenge the ruling, and a decision on whether to grant this appeal is yet to be made.
Ripple's President Monico Long promised in an interview with CNBC earlier in the week that the firm will continue to fight the SEC "all the way through".
Most observers feel momentum is with Ripple and that the outlook for XRP is thus positive, as the SEC's push to classify XRP as a security weakens.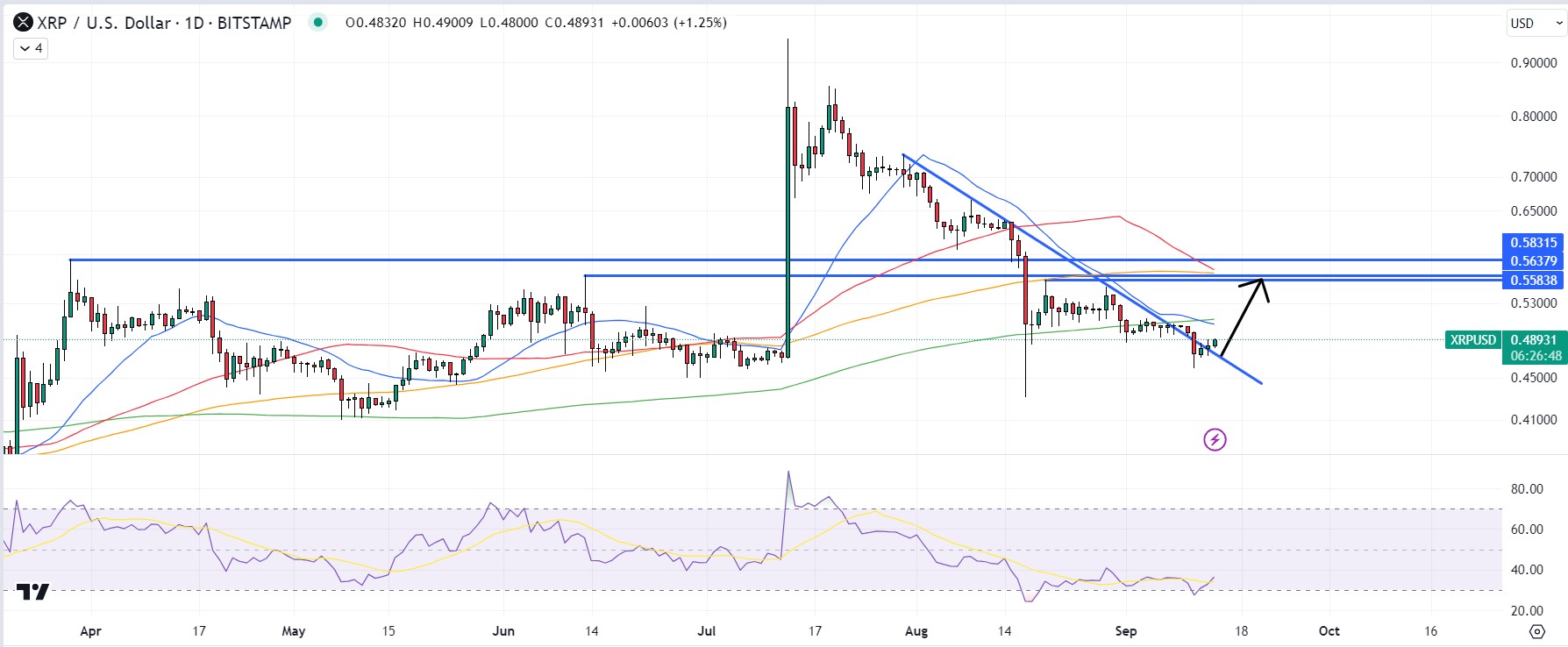 Alternatives to Consider
It's always smart for crypto investors to hedge their bets, given the unpredictability of the market.
One excellent XRP (XRP) alternative that crypto investors should consider is a new coin being launched by Wall Street Memes, one of the internet's largest retail investing communities.
Wall Street Memes, with its over 1 million following across various social media channels, has traditionally described itself as "the king of stonks" (stocks for the uninitiated), but is also looking to claim the crown of being "the king of crypto", with the launch of its very own meme coin token $WSM.
The presale of $WSM has been a resounding success, with over $25 million raised, and dozens of major crypto industry influencers and analysts backing the coin for major success.
And investors are running out of time to get involved, with the presale scheduled to end in under 14 days.
Get in now on a token that could match or even surpass the likes of Pepe Coin, Dogecoin and Shiba Inu.
Buy $WSM Here
Disclaimer: Crypto is a high-risk asset class. This article is provided for informational purposes and does not constitute investment advice. You could lose all of your capital.