When my team asked me to share what's on my holiday wish list this year, I really had to pause and think, since my initial reaction was like most people's: "I don't know; I don't really need anything!"
But after some thought, ideas started pouring in: mostly items I've learned about and saw on The Everygirl this past year that I mentally bookmarked but didn't purchase right away because it was not an immediate need. But the holiday wish lists aren't always about needs. It's about little things that spark joy and elevate everyday moments in our lives to be a bit brighter.
From charming home decor to luxurious beauty products and stylish additions to my wardrobe, there is a mix of items I've been eyeing for a while, plus new additions to some of my tried and true favorites. So, join me in exploring my holiday wishes, and hopefully it will spark some inspiration for your own festive wish list.
Wish List for My Closet
Sézane
Most everything on here are things I first saw on The Everygirl–this gorgeous Sezane coat included. Our fashion editor included it in a number of fall fashion round-ups, and it's been on my wish list ever since. This chic jacket from my favorite French brand immediately elevates any outfit no matter how casual.
Anthropologie
Almost everything in my closet is some version of black, white, or denim, so I'd love to add a little fun with this pink oversized sweatshirt repping my favorite international city from my study abroad days (other cities also available)!
Clare V.
The Grande Fanny from California designer Clare V. was at the top of my list for the past year; I finally invested in it this summer and cannot recommend it enough to all of you. It's easily one of the most-asked about things I've ever worn. My favorite feature, other than how cute it is, is that it's larger than most belt bags making it easy to grab items without everything spilling out.
Mejuri
Pearls have dominated the fashion scene for the last two years, but they're timeless when it comes to jewelry. I love Mejuri's take with the double natural-shaped stone; they're lovely for everyday use or special occasions.
Bombas
A younger me would have never known I could have so many opinions when it comes to socks. But after years of donning disappointing stockings on my feet, I can confidently say Bombas are the best of the best. This cute holiday set comes in my favorite length and weight for wearing under boots in the winter months. They're high enough that they don't slide down, warm enough to keep my toes toasty, and not too thick that they're uncomfortable in boots. Plus, the patterns are beautiful and go with my mostly neutral wardrobe.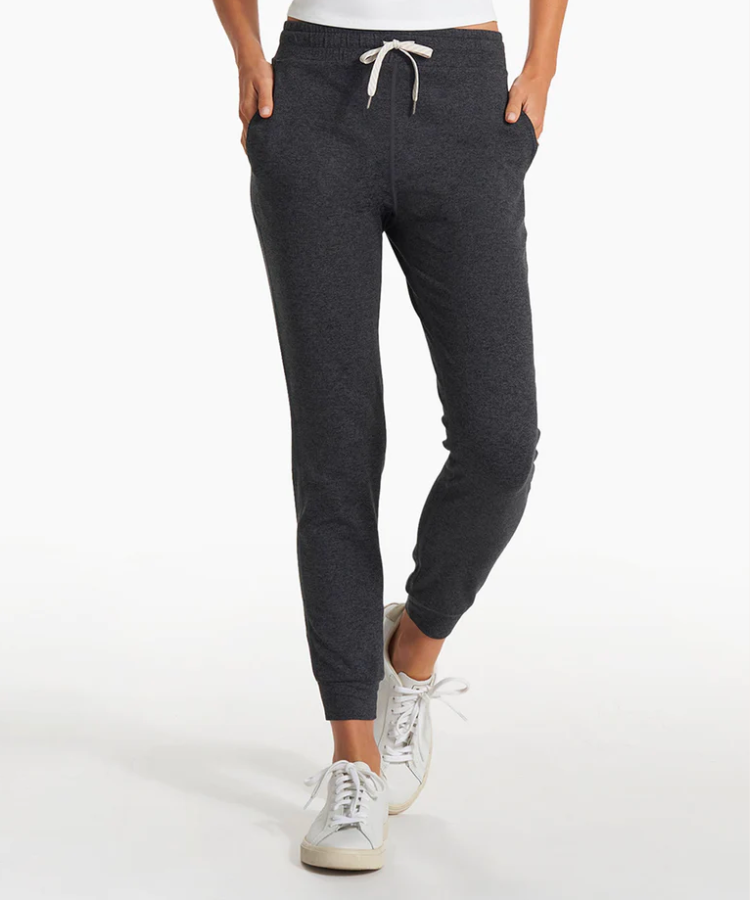 Vuori
What Bombas is to socks, Vuori is to joggers: the best and my first choice every time. For the last two years, Vuori joggers are what my husband and I gift each other every holiday season, slowly building our own collections. The fact that my husband, who has never thought twice about proper laundering, knows to wash these on gentle and air dry them says everything you need to know about how nice and soft they are. We value our Vuoris.
Nordstrom
At the advice of several friends and family members, I tried Orange Theory Fitness for the first time in September and quickly fell in love and found myself going three-to-four times a week. As a result, the soles of my running shoes (that previously would last me a year+) are already worn out and in need of replacing. This time, I'm looking for a fun new look and love the style and colors of these HOKA Everyday Running Shoes. I've also heard wonderful things about how they are for foot health, so my high arches will be happy.
LAKE
Another always-on-my-list, always-happy-to-receive is the cotton pima LAKE Pajamas set–particularly in this gorgeous light blue stripe. If you're on the fence wondering whether to get LAKE jammies, just know that my best friend is the type of person who teases people who wear matching sets–until she received her first pair of LAKE pajamas for her bachelorette and immediately started wearing them on repeat. They're that comfortable, aiding in the good night sleep we all deserve.
Wish List for Beauty
Dr. Dennis Gross
After trying a number of lovely, luxury skincare brands over the last decade, no single item or brand compares to the immediate positive effects I saw after using Dr. Dennis Gross Daily Peels. The amazing glow has made these a must-have in my skincare routine and an addition to my holiday wish list.
ETSY | Ayjaythelabel
As Agnes in Despicable Me said, "It's so fluffy!" This darling cosmetic bag with its equally lovely interior lining is the epitome of something that sparks joy. The sight of it alone makes me smile, so I'd be delighted to find this under our tree Christmas morning and in my travel bag every day thereafter.
Nordstrom
In a department store where everything is beautiful and my eyes can't stop darting around from one display to the next, this Tom Ford duo stopped me in my tracks. It comes as a discounted gift set this holiday season and is already boxed beautifully. I assumed it was just body shimmer but no–it also smells divine. A light enough scent that it's not overwhelming, but delicious enough that I couldn't stop smelling my wrist where I tested it the entire drive home.
Wish List for My Home
Courant
Courant's cordless charging docks are the perfect example of beauty meets function. My husband and I both already have the Mag 3 with the tray attached to our nightstands, and words cannot express how wonderful it is not to deal with a mess of cords all the time. I'd love to add this dual charger with a magnetic function for displaying the phone on my desk (and if I'm being honest, one in our kitchen, too).
Crate & Barrell
I saw these in an article on The Everygirl and knew it was time to upgrade the hurricanes I've had for almost a decade. I love the delicate detail of the fluting on this footed hurricane and plan to add the nine-inch and 12-inch as a duo for my coffee table to keep the room extra cozy in winter evenings.
Brightland
Female-founded Brightland harvests and produces olive oils and vinegar products from small farms in California, and the products are as beautiful as they are delicious. We love using them in all of our cooking.
Calpak
The minute this darling lunch bag came across my suggested posts on Instagram, I took a screenshot. For the last year, I've been carrying my lunch into the office in whatever canvas tote bag I can find, which isn't ideal, considering I usually have an hour-long commute. This insulated bag offers secure stowing plus temperature control to keep my salads and produce fresh until lunchtime.