Questionable weather and crowded skies are a recipe for delays and cancelations leading into the Thanksgiving holiday. With peak travel days drawing 2.6 to 2.9 million passengers, the busiest being Sunday 11/26 with 22,000 flights, travelers are advised to book early flights and save this list of essentials to have on hand the moment you sniff out a travel snafu at the airport. 
So, how can you avoid this nightmare scenario and enjoy your holiday? Don't worry, we've got you covered. We've compiled a list of tips to help you navigate the busiest travel days of the year. Whether you're flying solo or with your family, you'll want to have these essentials on hand the moment you sense trouble at the airport. Here's what you need to know: 
EXPERT URGES TRAVELERS TO GET TO AIRPORTS 'AS EARLY AS POSSIBLE' DURING HOLIDAY SEASON
How to use tech and info to rebook your flight faster  
I helped a friend by tapping the airline app to rebook after he had been waiting on hold for hours without his call answered by a human being. Knowledge is key and acting quickly will help the most. One new useful tool helps us see conditions at some larger airports. The National Airspace System Status website list active disruptions so that you can plan around trouble. 
It also offers insights into why delays may be happening. When there is a failure of the airline or system not related to weather, then the airline should offer more compensation and assistance with rebooking. Knowing if it's the airline's fault versus a passing storm can help you get a quick resolution versus little of any help. 
5 essential travel tools to use if your flight is canceled 
Canceled flight? These tools can help get you on the next flight while others wait in line going nowhere. 
1. FlightsFrom.com mobile site 
MORE: NEW ONLINE TRAVEL TOOL MAKES IT EASIER TO USE POINTS INSTEAD OF PAYING FOR HOTEL STAYS  
Bookmark this flightsfrom.com site on your phone to see all routes and scheduled flights from every airport before using your airline's mobile app to rebook. Knowing this can help with rebooking when airline ticket counter agents see limited options.  It seems counterintuitive to consider flying further away from your desired destination especially when airline and ticketing sites don't present routes that are far out of the way. 
Backtracking to cities can offer an open seat on a flight journey that zigzags to a more distant airport and still get you where you want to go faster than waiting for traditional routes to open.   Being able to piece together information on an unconventional route that involves more than one airline is one of the most powerful benefits of the flightsfrom.com site. 
2. Flight Board app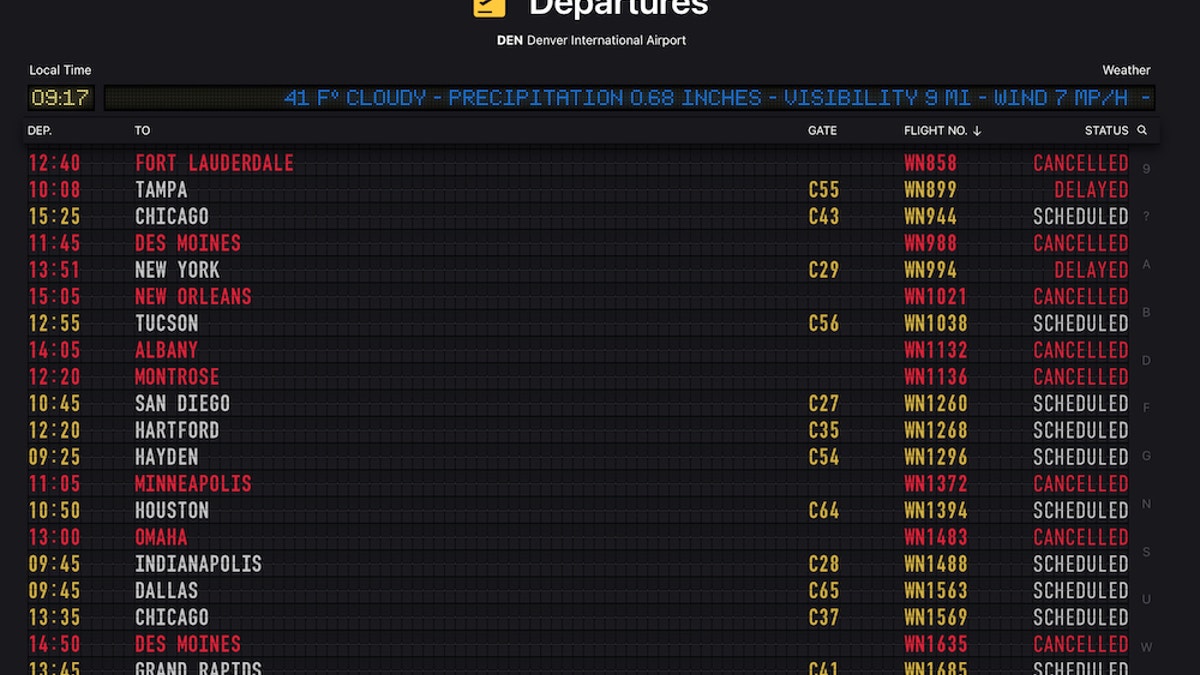 Flight Board app helps you track delayed and canceled flights. Most valuable is how it shows which flights are still operating from an airport you are standing in when yours gets delayed or canceled. 
This helps you understand which other flights are operating to get you to your destination.  Remember to screenshot a photo of the flights available for the moment you are negotiating a recovery flight. Click to get Flight Board app for iOS and Android. 
3. ExpertFlyer site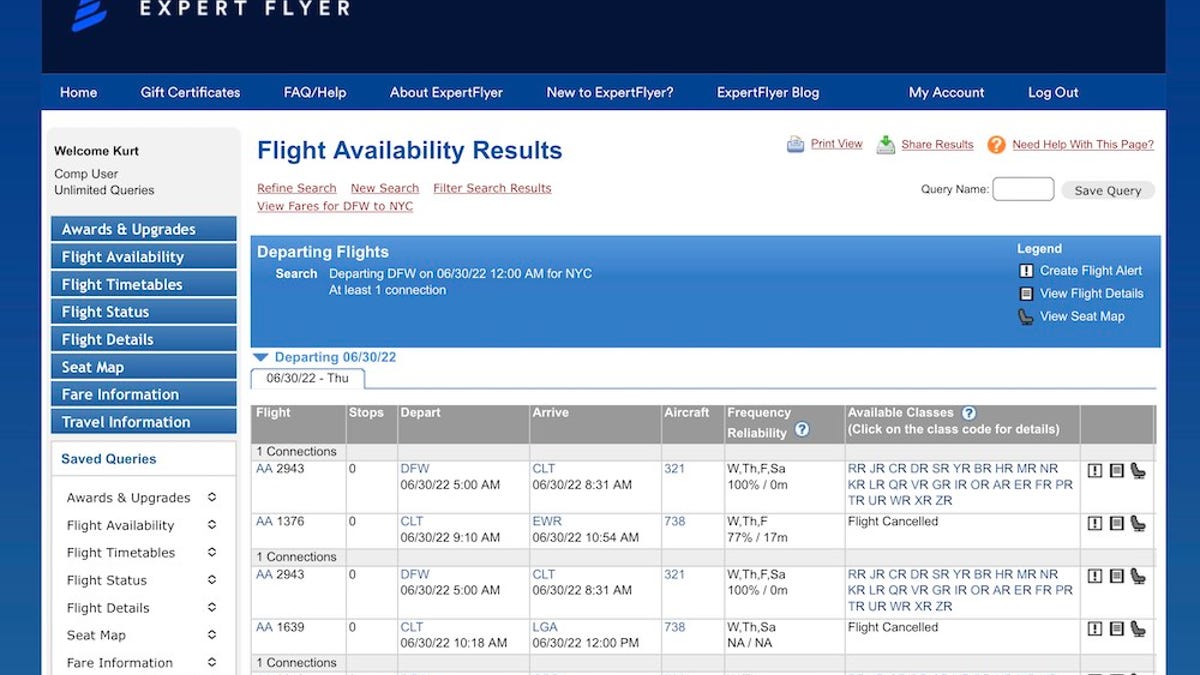 ExpertFlyer site shows vast flight inventory that airlines hide from you. Frequent fliers use this as an essential must-have subscription that reveals far more than any airline wants you to know.  Fact is, this tool alone can help you steer an airline representative toward available flights they may not even see. 
I especially love a feature that allows you to click for additional flight status information that reveals a log of each flight.  On one occasion, I was told by a gate agent after a flight was canceled that it was weather-related and she could not help. 
ExpertFlyer then allowed me to show the true data proving the flight was canceled for "operational" reasons with no mention of weather. Yes, I got a hotel voucher that paid for the night until my recovery flight took off first thing in the morning. 
ExpertFlyer has a free seat alert function, and the real full working version is a paid monthly or annual subscription which for me pays for itself in spades. When it comes to free apps and services online of any worth, if you are getting a valuable product for free, then you are the product. ExpertFlyer is found here.
4. LiveATC Air Traffic Control radio app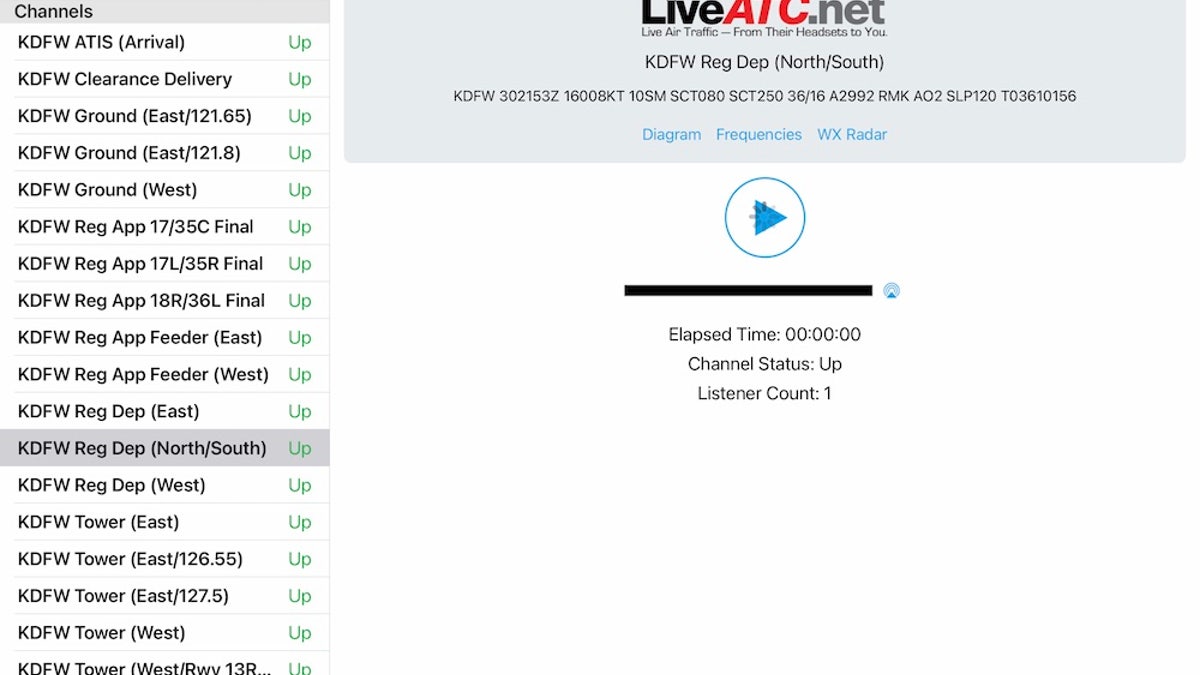 LiveATC app started as a fun way to hear air traffic control talking to the flight deck. Today, this can be one of the most essential recovery tools when delays start targeting your journey. 
Find your city, then choose the airport and the ground channel for your departure. You will often hear exactly why your flight is delayed.  And in some circumstances, you will hear the flight being canceled before it is announced to the cabin or flashes on the airline app. 
The advantage of spotting trouble ahead of the masses can help you get into the next few seats still available on the following flights to get you to your destination. LiveATC is here.
TSA PREDICTS RECORD-BREAKING HOLIDAY TRAVEL SEASON: 'PACK YOUR PATIENCE'
5. ITA Matrix flight search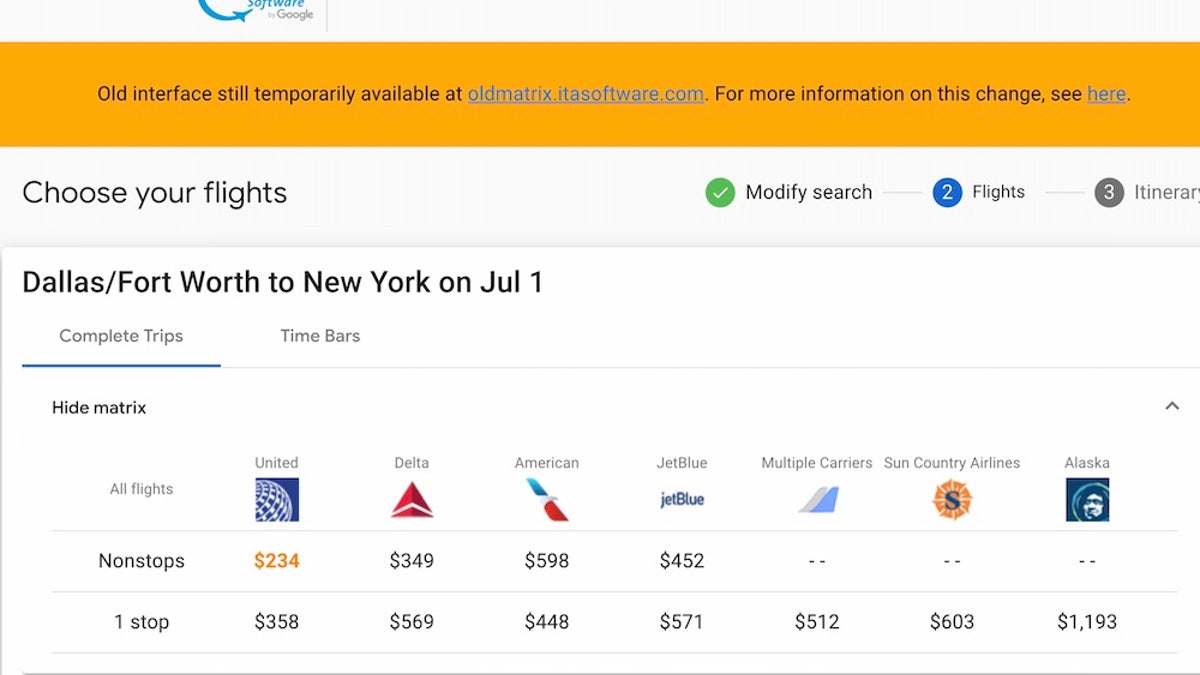 ITA Matrix site shows all available flights for sale on all airlines at that moment. You cannot buy a ticket here, just get informed. Best bet is to buy an airline ticket directly from the airline you plan to travel. What works great here is this will show you flights available to your destination for sale available in real-time. 
It shows other airlines which could be a better flight recovery option if your flight gets scrapped.  Airlines would rather accommodate you on a later flight on the same company aircraft to save money.  Fact is, you can often nudge your way into an airline confirming travel on a competitor in order to resolve a failure that sits on their shoulders. Search flights on ITA Matrix here.
GET MORE OF MY SECURITY ALERTS, QUICK TIPS & EASY VIDEO TUTORIALS WITH THE FREE CYBERGUY NEWSLETTER – CLICK HERE 
Pro flight tips 
Book tickets on bigger planes when available. Flying larger aircraft that become planes used on international routes are seldom canceled. 
Airline lounges offer better rebooking help. (buy a day pass if you cannot get through to an agent or reticket online with the airline's app) 
Avoid checking bags to give yourself the most flexibility. If you find a flight on another airline to get you where you want to go, airlines won't always transfer checked luggage to other carriers. 
Listen to LiveATC app control tower and tap into apps like my newest favorite Flighty to find alternatives during a delay to hear how your flight is being handled by ground air traffic controllers. You will know to rebook before anyone else. 
GOVERNMENT SHUTDOWN COULD SET UP 'NIGHTMARE' THANKSGIVING TRAVEL RUSH: EXPERT
Kurt's key takeaways   
Thanksgiving is a time to celebrate with your loved ones, but it can also be a stressful time if you have to deal with flight delays and cancellations. But don't let that ruin your holiday spirit. You can still make it to your destination with some smart planning and the help of these amazing tools. Whether you need to rebook your flight, track the status of the airports, or find out the reason for the disruption, these tools will give you the edge over other travelers. So don't let the shutdown get you down and enjoy your Thanksgiving. 
How do you cope with the emotional and physical toll of traveling during a stressful time?  Let us know by writing us at Cyberguy.com/Contact.
For more of my tech tips & security alerts, subscribe to my free CyberGuy Report Newsletter by heading to Cyberguy.com/Newsletter.
Ask Kurt a question or let us know what stories you'd like us to cover.
Answers to the most asked CyberGuy questions: 
What is the best way to protect your Mac, Windows, iPhone, and Android devices from getting hacked? 
What is the best way to stay private, secure, and anonymous while browsing the web? 
How can I get rid of robocalls with apps and data removal services? 
Copyright 2023 CyberGuy.com. All rights reserved.